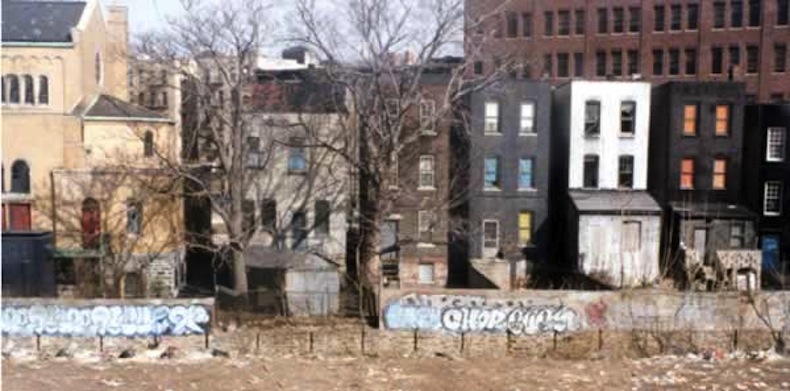 A Theology of Gentrification
The people of the Kingdom have a unique mandate to care for the needs of the vulnerable and the voiceless. Our scriptures are quite clear about this. It has been from antiquity both our birthright and our responsibility. We cannot rightly take joy in the rebirth of the city if no provision is being made to include the poor as co-participants. It will not be enough to offer food baskets at Christmas to migrating masses of needy people who are being driven by market forces away from the vital services of the city. Nor will our well-intentioned programs and ministries suffice for those being scattered to unwelcoming edge cities. We must be more intelligent than this. More strategic.
While we remain committed to fulfilling the Great Commission, there is a prior command the followers of Christ are called to – the Great Command. Loving God and its inseparable companion – loving neighbor – form the bedrock of our faith. All the Law and Prophets are built upon this foundation, our Lord said. The prophet Micah captured its essence: He has told you, oh man, what is good and what the Lord requires of you, that you do justice and love mercy and walk humbly with you God. (Micah 6:8) The Body of Christ is amply resourced with the very talents needed to bring about both mercy and justice in our changing cities. In addition to those more spiritual sounding gifts – those we have heard sermons about – there is a vast untapped reservoir of giftedness ready to channel into the work of the Kingdom – secular sounding gifts like deal-making, lending, insuring, lawyering, marketing, architecture, real estate developing to name but a few. Under the Lordship of Christ, these become spiritual gifts ideally designed for the work of Biblical justice.
The "Christ-ones" who believe that their highest calling is to love God and love their neighbor are the very ones equipped to infuse into our culture both values and actions that will have redemptive outcomes. We can buy crack houses and renovate them for residences for mission-minded couples. We can structure deals to develop mixed-income housing. We can create innovative housing policies that will induce developers to include lower-income residents in their plans. We can pass ordinances that that will give tax relief to seniors on fixed incomes so they can remain in their homes. We can establish loan funds to give down payment assistance to lower-income home buyers, and also provide a trust deed with the loan. If we are both caring and thinking people, we can use our influence and resources to develop the means by which "the least of these" can share in the benefits of a reviving city – and foster healthy growth at the same time. We can harness the growing tide of gentrification so that it becomes a redemptive force in our cities. In a word, we can bring about gentrification with justice.
**************************
This is Part 4 of a 6-part series on community development, justice and gentrification by Bob Lupton.
Part 1 Â | Â Part 2 Â | Â Part 3
Stay tuned to Verge Network every Friday for the remaining parts of this series of articles. 
Bob Lupton has invested almost 40 years of his life in inner-city Atlanta. In response to a call that he first felt while serving in Vietnam, he left a budding business career to work with delinquent urban youth. Bob and his wife Peggy and their two sons sold their suburban home and moved into the inner-city where they have lived and served as neighbors among those in need. Their life's work has been the rebuilding of urban neighborhoods where families can flourish and children can grow into healthy adults.
Bob is a Christian community developer, an entrepreneur who brings together communities of resource with communities of need. Through FCS Urban Ministries – a non-profit organization which he founded – he has developed two mixed income subdivisions, organized a multi-racial congregation, started a number of businesses, created housing for hundreds of families and initiated a wide range of human services in his community. He is the author of the books Theirs in the Kingdom, Return Flight, Renewing the City, Compassion, Justice and the Christian Life and the widely circulated "Urban Perspectives", monthly reflections on the Gospel and the poor. Bob has a Ph.D. in psychology from the University of Georgia. He serves as speaker, strategist, and inspirer with those throughout the nation who seek to establish God's Shalom in the city.