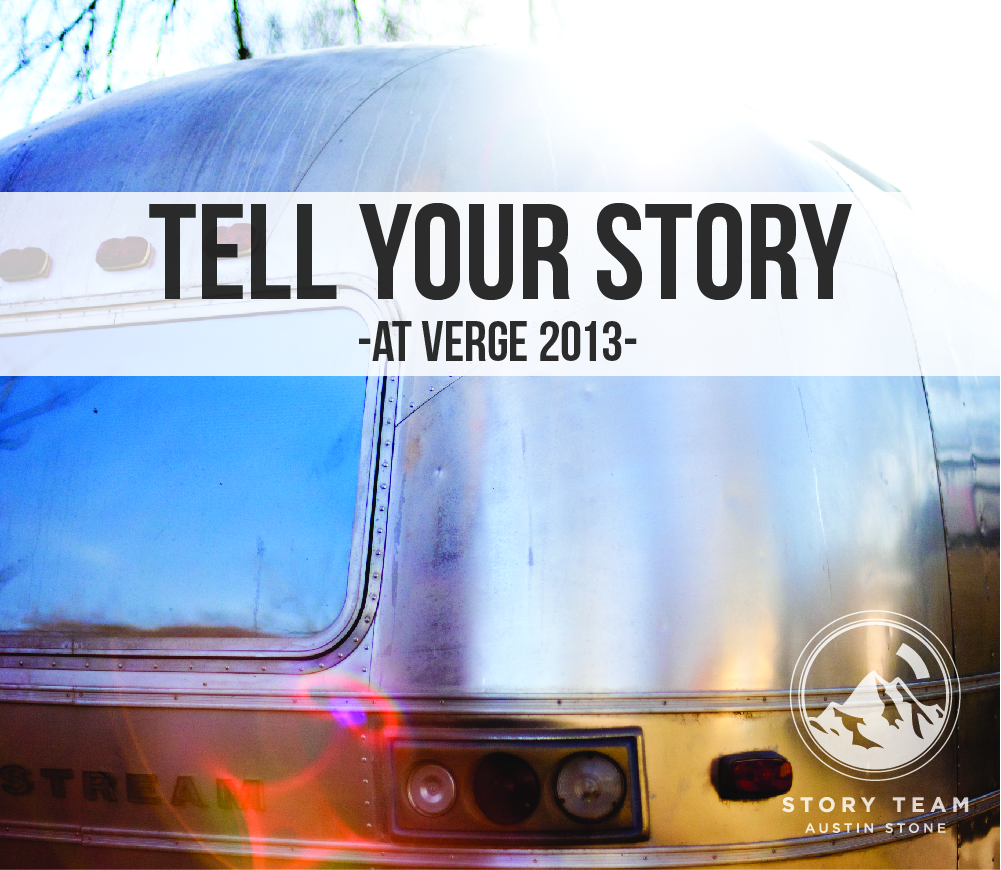 TELL YOUR STORY at Verge 2013
Verge Story Trailer
Stories have the ability to give hope and inspire change. Stories are embedded with teaching and training in ways that pure content cannot accomplish. Stories provide models and mentors and pictures of the future.
And that is why we want you to tell YOUR story.
Many of you are involved in grassroots mission. Many of you have no desire to seek recognition. But we still need you. And others need you. They need to hear your story and be inspired – not by the flashy – but by the incredible inspiration that comes from hearing everyday people tell about their missional adventures that come as a result of following Jesus.
Last year at Verge 2012, Austin Stone Story Team parked a 1972 VW Van in front of Austin Music Hall in order to capture the stories of God's people living on mission all over the country. It was a huge success, and many of you shared incredible, compelling stories of what God is doing in your lives and communities.
Check out these stories from Verge 2012!
It was such a success that we want to do it again this year. We want you to tell your story at Verge 2013. Austin Stone Story Team will be back capturing stories, and they will have a slight mobile studio upgrade. They will have a sleek Airstream trailer parked right outside of Moody Theater.
2 Simple Ways To Tell Your Story
1) Write your story and submit it to our website!
We might use your story for blog posts, articles and eBooks! Click here to find out how you can upload your written story to our website!
2) Tell your story at Verge 2013!
Please fill out the form below in order to tell your story at Verge 2013. Space is limited, and we will fill up fast. Sign up today!
Please know that due to time and category restrictions we have a limited number of interview spots available. This means that we will be reading all story submissions and then selecting specific stories to be told. We will let you know if your story is selected.
Thanks for submitting your story!