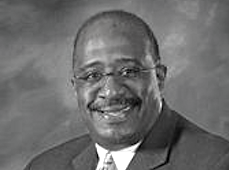 Joseph C. Parker, Jr., Esq., D. Min., a native of Birmingham, Alabama, is the Senior Pastor of David Chapel Missionary Baptist Church in Austin, Texas. Prior to being called as Pastor in September 1992, he served David Chapel from 1984 – 1992 as Associate Pastor for Christian Education. From March 1992 to March 1994, Pastor Parker, a civil trial attorney and mediator, was Chief of Litigation for the State Bar of Texas, but resigned his position to devote more time to his pastorate. He was formerly a director and vice president with the law firm of Long, Burner, Parks & Sealy, P.C., in Austin, Texas and in 1996-97 was the first African American president of the Travis County Bar Association. Consequently, he has been honored as a "Trail Blazer" by the State Bar of Texas. He is a Master of the Court in the American Inns of Court and a Fellow of the Center for Public Policy Dispute Resolution at the University of Texas School of Law; his framed photograph, biography and autograph are on permanent display in a law school classroom as a part of the Distinguished Minority Alumni Portrait Collection. He has taught preaching at Baylor University's George W. Truett Theological Seminary and Advanced Civil Litigation in Trial Advocacy at the University of Texas at Austin School of Law. He has served on several committees of the Baptist General Convention of Texas, currently serving on the Executive Board and the Baptist Standard newsmagazine board.
He has also written articles for the Baptist Standard, on-line Smyth & Helwys Uniform Series Bible Study and Christian Reflection: A Series in Faith and Ethics journal.  His first book, Holy Change: A Systemic Approach to Transforming A Community, was published in 2008.
Pastor Parker graduated with a B.A. from Morehouse College (Atlanta, Georgia) and received his Masters in Public Administration at the University of Georgia in Athens. He received his Doctor of Jurisprudence from the University of Texas at Austin where he was selected as a member of the Order of Barristers (one of the top ten graduating students in trial advocacy). He received his Masters of Divinity (magna cum laude honors) from the George W. Truett Theological Seminary at Baylor University, Waco, Texas, where he has served as the first alumnus and African American chairman of the Board of Advisors. In 2004, he was selected as the first "Distinguished Alumnus of the Year" of the Truett Seminary. He received his Doctorate of Ministry degree in Urban Ministry from Gordon-Conwell Theological Seminary in Boston, Massachusetts.
KFIT Radio Station selected him as the "1998 Pastor of the Year." He has also been inducted onto the Martin Luther King, Jr. International Chapel Board of Preachers at Morehouse College. He is a 1984 graduate of Leadership Austin and in 1999 was selected by his classmates as the outstanding graduate of that class. He is also the recipient of the Leadership Austin 2002 Polly Scallorn Community Trustee Award. Pastor Parker has been a board member of Safe Place (Domestic Violence & Sexual Assault Survival Center) and the Austin Area Urban League. He is the founding president of the Texas Congregations United for Empowerment (TCUE). Pastor Parker currently delivers a weekly sermon each Sunday evening, on Channel 11. He participated in many ministerial, community and legal organizations.
Pastor Parker has been married to J. Laverne Morris-Parker since 1976 and they have three daughters – Jessica, Jennifer, and Janetta.