The Thai people might not describe their city as exotic, but Bangkok's "inner inner city" is actually one of the most intriguing, exciting places in the world. Our Adventure Trip includes visits to the "real" Bangkok, far from tourist areas, and gives you unique opportunities to experience its culture and get to know its residents.
Trip Details
Each trip includes Urban Grit, Urban Glitter, 24 Hour Shadow, Bangkok Tox, and The Beach. Urban Specialists guide each experience.
Our Urban specialists are musicians, artists, architects, entrepreneurs, designers and engineers as well as a few high-profile expats who've found the soul of the city.
They are mapping the inner inner city every day and have had a part in imagining and drawing the city of Bangkok as well as in the telling of its narrative.
The Urban Specialists and Translators
Patricia DeWit – XEALOT Guide
Anan – British pub owner
Tae – Architect (Terminal 21)
Dwight – expat entrepreneur and founder of In Search Of Sanuk
Aaron – British expat, tsunami survivor, businessman
Christina – Thai businesswoman
Nok – Thai-Chinese businesswoman
Boon – Fashion designer (Eva), Architect
Urban Grit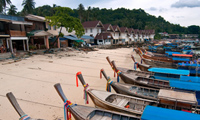 Experience daytime excursions by foot, bike, boat or taxi. Visit hidden back streets and alleys that almost never see a foreigner. A local guide will lead you through his neighborhood and you'll have plenty of time to learn about family, politics, economy, and worldview and life in the city.
Urban Grit may take you….
…to a Thai-owned pub for a lesson in local history
…to a neighborhood time forgot to see how people in a modern city still live according to some of the old ways
…into a close-knit community of urban squatters
…to an authentic floating market
…cycling on suspended sidewalks
…on a speed-boat taxi with a glimpse of Bangkok's river homes
…on an urban picnic for tastes of some of the best street-side food stalls
…into Aunty Pon's outdoor kitchen to share cooking secrets and a "cafay boh-ran," an old-fashioned iced coffee.
Urban Glitter
Watch the sun go down and the lights come on and see Bangkok transform before your eyes. Enjoy some VIP treatment and a breath-taking view from one of the city's elite rooftop restaurants. You'll get an inside look into the other side of the city, and an Urban Specialist will share perspectives on Bangkok culture.
Urban Glitter may give you…..
…an urban sunset at a rooftop bistro
…an after-dark cruise to admire the skyline along the Chao Phrayaa River
…a visit to a recording studio, art gallery or cultural site
…a tour through Bangkok's hip and happening neighborhoods in Upper Sukhumvit
24 Hour Shadow
Anyone can walk down the street and take in the sights, but our Adventure Trip dares you to take a closer look. Participants in the 24 Hour Shadow will spend a full 24 hours living alongside a Bangkok resident, learning from local people who work hard for a living.
You may shadow…..
…a Thai kickboxing trainer
…a noodle shop owner
…a small café/restaurant owner
…a spa worker
…a local street vendor in a slum community
…a B-Boy dance crew member
Bangkok Tox
This is an unconventional tour through one of Bangkok's many high-energy, noisy night spots. It will emphasize the TOX, or the "City within the City." An Urban Specialist will provide unique insider glimpses, discussing history, culture and Bangkok's arrival at this modern context.
The Beach
Teams finish their trip with two nights and three days at the beach in the sleepy sea-side town of Hua Hin. As well as relaxing in the sands of the Gulf of Siam, this final part of our Adventure Trip will allow time for guided feedback, questions, discussion, and reflection on the personal impact of our Adventure Trip Program.
General Itinerary
The schedule may change depending on arrival times. Participants who choose to arrive earlier will need to make travel arrangements from the airport as well as hotel booking for any days not included in the schedule.
Day 1
Pick up at airport
Check-in at hotel
Urban Tox Phase 1: Grit
Day 2
Breakfast with Urban Specialist
Urban Tox Phase 2: Grit
Lunch with Urban Specialist
Urban Tox Phase 3: 24 hour shadow begins 1 p.m.
Day 3
24 hour shadow ends 1 p.m.
Afternoon relaxing and preparation for the evening
Pick up at hotel
Urban Tox Phase 4: Glitter (Smart Casual Dress Code at Banyan Tree's Moon Bar. Long trousers and closed shoes for gentlemen. No torn jeans, sleeveless tops, shorts or flip-flops for ladies or gents.)
Day 4
Early breakfast
Head to beach resort in Hua Hin
Evening meal
Day 5
Ramp – beach and local sights
Evening meal and discussion time with Urban Specialist
Day 6
Check out by noon
Travel to Bangkok
Dinner and a movie
Day 7
Check-out
To airport
Depart
Weather
Thailand has a tropical climate. Temperatures in the 80s–90s can be expected during the day. During the summer months, expect evening rain (possibly daytime as well) and hot/humid conditions. July and August will definitely average daytime temperatures in the 80s and highs in the low 90s with high humidity.
Dates
April 23-30, 2013
June 5-12, 2013
Trip Cost
US $2,300 + Airfare (Regular Price)
US $1,600 + Airfare (Discounted Price for limited time)
Included in the price:
All local travel
All meals
Lodging (5 nights based on double occupancy)
Urban specialist
Translator fees
Activities
Taxes
Gratuities