Disciplemaking is tough. Effective disciplemaking is even tougher.
I see a lot of false starts, a lot of frustration and a lot of broken attempts at disciplemaking.
I've heard countless reasons for these frustrations and failures. We did a survey of over 5000 missional leaders and here are the 2 greatest barriers to discipleship we found: knowing where or how to start… and time.
But there are others…
Sometimes the issue is that we believe certain myths about the Great Commission to go and make disciples.
Myth #1: Disciplemaking will just take care of itself
Do you sometimes think that you can make disciples without changing anything in your daily life? Have you bought into the myth that new disciples will be made and multiplied without any kind of intentionality?
With the busyness of life, work, family, and friends it can be too easy to just assume that disciplemaking will just take care of itself.
Myth #2: Effective disciplemaking will come naturally
Are your disciplemaking efforts really just dreams and aspirations, and not efforts backed by a well-engineered plan? Do you have a well-structured blueprint for effective disciplemaking?
Too often I think that disciplemaking will just come naturally – that it won't any kind of intentionality, planning, or forethought. But without a plan or blueprint I usually just fall back into the same habits and routines. Are you the same way?
Myth #3: Disciplemaking doesn't really require any training
Maybe you've bought into the myth that effective disciplemaking will happen without any training or education. But we all know that this doesn't ring true in anything else we've ever attempted… and it doesn't ring true for effective disciplemaking either.
Disciplemaking is just like anything else that I've ever wanted to master. It takes training and accountability. I can't just snap my fingers and… *woila* …I'm now an effective disciplemaker. Like a marathon, it takes training and intentionality… and sacrifice.
Myth #4: I'm not capable
Have you convinced yourself of the myth that you aren't capable for some reason? Maybe it's the feeling that you lack experience. Maybe it's the feeling that you lack some sort of special disciplemaking skill. Maybe you feel like you just weren't blessed with the disciplemaking gene.
Whatever it may be, this feeling that you're not capable can absolutely cripple your ability to make a difference through disciplemaking. It makes disciplemaking seem elusive and distant, as if it's just reserved for the professionals.
Discipleship is not easy. Jesus didn't say it would be.
Whether it's barriers in your everyday life or a broken belief in what the Great Commission is, ineffective disciplemaking is a real problem.
It can cripple our ability to make a difference, derail the mission God has called us to, and offers nothing to help the survival and growth of the gospel in the world.
But here's one thing we've learned from training and equipping over 2 million leaders from 100+ different countries:
The Real Problem
There's a problem with how we're making disciples…
Really, the problem is that we're not effectively multiplying disciples.
Perhaps it's because we don't understand why discipleship is so important. …or we don't see the hidden, treacherous barriers that keep sabotaging our attempts at making disciples.
Or, it might be a misunderstanding of what it means to be a disciple. Maybe we just have unhealthy disciplemaking habits.
Not only that but ineffective disciplemaking may have you feeling tired, frustrated, afraid and timid, or worse – ready to quit.
But It Doesn't Have To Be This Way
Effective disciplemaking is absolutely possible. But it doesn't happen accidentally. Effective disciplemaking requires training and accountability… and a deep investment.
In thousands of hours with thousands and thousands of leaders we've discovered that most followers of Jesus really have a heart to see the gospel multiply and flourish in mighty ways.
But too many are using outdated formulas for times that have changed dramatically in recent years… they are doing the same thing over and over and expecting different results.
Too many people have never been taught the why, what and how of disciplemaking – of making a difference in the world.
We want to show you how to reverse that.
There is a blueprint for effective disciplemaking
Although this course took us years to develop, it is now only a few clicks away from you reaping the tremendous benefits. That's why I'm sharing it with you.
It's called Disciplemaking Blueprint.
Disciplemaking Blueprint is an online training program… a 14-module course that walks you through developing a proven plan for effectively making disciples.
This online course walks with you through this process. It will help you get to the heart of disciplemaking, discover the priority of disciplemaking, learn the "what" and "how" of disciplemaking, and—most importantly—set you up with a blueprint for effective disciplemaking.
You'll get 14 different modules that help move you from ineffective to effective discipleship. Collectively, it will provide you with an incredible amount of clarity and confidence for making a difference.
If you are serious about making a difference by becoming an effective disciplemaker, then this training program is absolutely for you.
After going through this process, you'll know what effective discipleship looks like, what's currently holding you back from being effective, what you need to do right now, and how to utilize the right tools and training to be the effective disciplemaker you've wanted to be!
Here's what you'll learn:
The top 7 things that will help you endure (and prevail) in effective disciplemaking
The 4 ways to know what a true disciple looks like
The 3 greatest barriers to discipleship in our culture (and how to overcome them)
The right tools to start and sustain effective discipleship relationships
The real heart of effective disciplemaking (including the one thing that could change everything)
A "deep-dive" into the secret habits of fruitful disciplemakers
The 8 non-negotiable components of effective disciplemaking
14 practical tips for effective disciplemaking
7 key insights that will give you the tools and motivation to keep disciplemaking central in your life
9 hidden (and not-so-hidden) barriers to effective disciplemaking (and what to do about them)
A 3-part series that uncovers what a true disciple looks like (and how to make them)
The 3 simple patterns and practices that effective disciplemakers use every day (one of them might surprise you)
The tips that effective disciplemakers use to share their faith in culturally relevant ways
The 3 things you absolutely must balance to be an effective disciplemaker
5 habits of highly effective disciplemaking communities
The 6 marks of a transformed disciple
And so much more!
Not only that but you'll also get…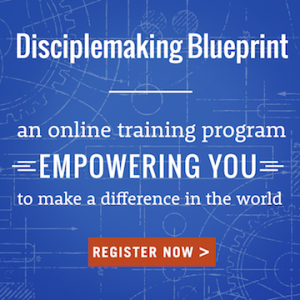 A 14-module course (delivered weekly)
Access to an exclusive online community of disciplemakers who want to see you succeed in disciplemaking
Access to live Q&A Coaching Webinars with leaders like Francis Chan, Jeff Vanderstelt, Kevin Peck, and more
3 Bonus Modules on missional leadership and disciplemaking
Access to over 20 downloadable eBooks, PDFs and resources
and more!
Click here to find out more about the Disciplemaking Blueprint Course.