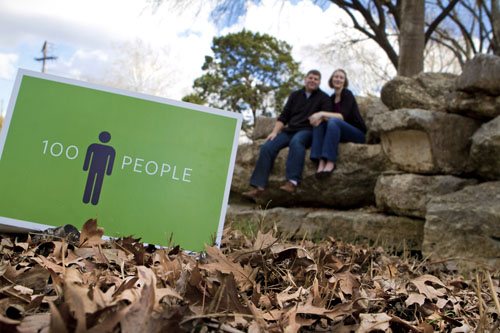 Profile by Casey Henegar
Photo by Chris Hedlund
Like many Austinites, Denny and Janie enjoy sports, movies, Fruity Fro-Yo and Chuy's Creamy Jalapeno. Both are quick to point out that they are not superhero Christians, but two ordinary people who have chosen to follow the call of God.
God led this pair of only children from two different states and two different church backgrounds to Baylor University and into each other's lives. While Janie pursued a degree in Deaf Education and Denny studied Sports Management, their relationships with God and with each other grew significantly. Between mission trips separately and together, Passion conferences, camp counselor experiences, and living in Biblical community, Denny and Janie discovered the joy of living a full life in Christ.
For Janie, a turning point in her journey was a simple prayer. Without knowing what it would look like, she prayed that God would allow her to weep for the lost. It wasn't long before God answered that prayer and began to change her heart in new ways.
On a three-month mission trip in 2007, Janie felt the call on her life to missions. When she returned home, her perspective had changed, her heart was different, and she deeply longed to be somewhere else.
All the while, Denny knew that he was called to be Janie's husband. He didn't feel that he was called to be one of the superhero missionaries that he had seen growing up, but that he was called to support Janie in any way. With deep love for her and for Christ, Denny knew that his life would include missions. He would stand by his wife and serve her as she was called to serve others.
But in July of 2010, as Denny and Janie were returning from a mission trip, Denny read Isaiah 43:8, "Lead out those who have eyes but are blind, who have ears but are deaf." Interpreting the scripture literally, he heard the call of God on his life: The deaf must hear. It was no longer a call only on Janie's life but on his as well.
All along, Denny knew that Janie had the sign language skills to reach the deaf community, but his eyes were now opened to the skills that God had birthed in him. He was ready to go and ready to serve in the ways that God had prepared him.
In this new chapter of their journey, Janie will teach at a rural deaf school in Central America. She will also teach the current classroom teachers Deaf Education strategies to better reach their students, and she will train deaf adult leaders who go out into the community to teach others. The organization Janie will work with aims to equip the older deaf to lead independently.
With his background in International Business, Denny will lead the business side of the organization, which sells decorative crosses to other countries. He will also lead short-term teams, develop mentoring relationships, and preach on Sundays.
Fear of leaving the comforts of family and friends, the Austin Stone Community Church, and Sunday afternoon football games sometimes creeps into their minds. But the excitement of a new culture, the loss of distractions, the opportunity to develop relationships, and the privilege of sharing Jesus far surpass their fears.
No matter what the future holds for Denny and Janie, their prayer is that they share Jesus well with the people they meet. "I hope people say that we represented Christ well," Janie stated quietly.
"I don't want them to say anything about me when I leave," Denny said with a peaceful smile. "I want them to say that God is good. I don't even need them to know my name."
___________________________________
This story was originally posted on the 100 People Network blog. Over the next few weeks Verge Network will be running a series of post on Reaching the Unreached. If you are interested in learning more about unreached people groups and out to get involved, please visit www.100peoplenetwork.org