Question 3: How do you transition your church to be more missional?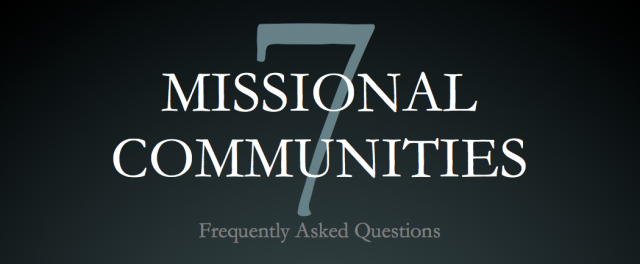 Recently we started the "7 Questions" Series to explore some of the burning questions about Missional Communities. Right now we are exploring the question, "How do you transition your church to be more missional?"
In this podcast, Dave Ferguson describes the challenges at both the macro and micro levels for transitioning to a missional model:
More about the 7 Questions Series
Over the coming weeks, we will be asking some of the leading thinkers and practitioners to answer 7 of the most frequently asked questions about missional communities. All of the folks we'll be hearing from are featured speakers at Exponential 2011: On The Verge. For more information about Exponential 2011, visit www.exponentialconference.org. Also, make sure to use and follow the Twitter hashtag #7questions to keep up with the conversation!
Dave Ferguson and four friends from college launched Community Christian Church, a church that is passionate about "helping people find their way back to God". Dave serves as a resource for other churches and leaders seeking to expand through multiple church sites and provides visionary leadership for the NewThing Network, a catalyst for a movement of reproducing churches. He is also the co-founder and serves on the Board of Directors for the Institute for Community who partner with real estate developers to accomplish their mission of "helping people build quality relationships where they live and work through the power of genuine community". Dave is the co-author of The Big Idea: Focus the Message, Multiply the Impact, Exponential: How you and your friends can start a missional church movement and the soon to be released On the Verge: The Future of the Church as Apostolic Movement, all with Zondervan.. Twitter: @daveferguson.
====================================
How does Dave's model of story telling and commissioning challenge or encourage you? What have been some of the challenges for your ministry? Join the conversation in the comment section below…