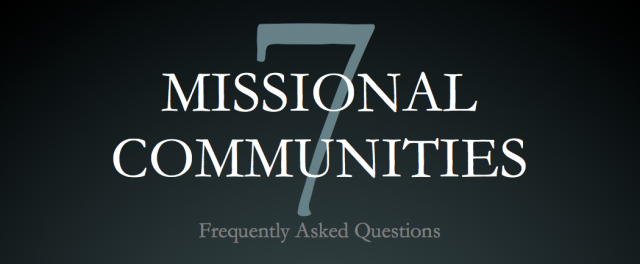 Over the coming weeks, we will be asking some of the leading thinkers and practitioners to answer 7 of the most frequently asked questions about missional communities. All of the folks we'll be hearing from are featured speakers at Exponential 2011: On The Verge. For more information about Exponential 2011, visit www.exponentialconference.org. Also, make sure to use and follow the Twitter hashtag #7questions to keep up with the conversation!
Question #1: What is a missional community?
Other answers from: Neil Cole | Hugh Halter | Mike Breen | Alan Hirsch | Felicity Dale | Jeff Vanderstelt
You can download a PDF of this post here: PDF
JR Woodward is a dream awakener and co-founder of Kairos Los Angeles, a network of neighborhood churches in the Los Angeles area. He serves on the East Hollywood Neighborhood Council as well as on the board for the Ecclesia Network and GCM. He founded [nlcf] a church at Virginia Tech, and The Unembraced, a ministry to orphans in the Turkana region of Kenya. He is also the co-founder and director of The Solis Foundation that awards micro-grants to help start small businesses in Kenya. JR enjoys coaching and consulting with a number of churches and church planters. Twitter: @dreamawakener.
Question #1: What is a missional community?
JR Woodward:
To understand what a missional community is, we must first ask the who question. The moment we begin to think of a missional community as simply a combination of different activities or functions, we can be seduced into placing too much confidence in our own strategies instead of simply being who God has made us. The who gives power and direction to what a missional community is and does.
One of the central messages of the New Testament is that God changes us by changing our identities, our sense of self-definition. Jesus says, "You are the light of the world. You are the salt of the earth." Peter declares, "You are a chosen people, a royal priesthood, a holy nation, God's special possession, that you may declare the praises of him who called you out of darkness into his wonderful light. Once you were not a people, but now you are the people of God; once you had not received mercy, but now you have received mercy." Paul starts many of his letters reminding the people of God of who they are in Christ, before he calls them to do anything. So what is the who of missional communities?
Missional communities are a sent people who connect with God, do life together and receive power from the Holy Spirit to partner with God to accomplish his purposes in our neighborhoods and in the world. Jesus said, "As the Father has sent me, I am sending you." And then he breathed on them and said, "Receive the Holy Spirit."
We see throughout scripture that God is on mission. God is a sending God. He took the initiative to pursue us, coming into our world, seeking, wooing, calling and restoring. It was the Father who sent the Son, and the Father and Son that sent the Spirit.
Missional Communities are defined by their identity. They are not so much groups of people with a mission, as much as they are a sent people, sent to be disciples of Jesus in the world and for the sake of the world. They are mid-sized groups [20 – 50] living out their "sentness" together in specific missional spaces; learning to live in the way of Jesus; bringing God's love, forgiveness, compassion and justice to specific people and neighborhoods. Missional communities carry their worship of God into every moment and space of life, from the marketplace to the neighborhood, bringing the blessing of Christ with them.
Missional communities do life together and equip one another to:
1. Live Out Our Calling
2. Walk With God
3. Incarnate the Good News
4. Pursue Wholeness in Community
5. Inhabit the Sacred Text
Answering the who question gives power and direction to the what question. Living out our identity as a sent people – to specific groups of people – is the core of what a missional community is all about.
What do you think about JR's definition of missional community? What other questions does this leave you with? Join the conversation in the comment section below…