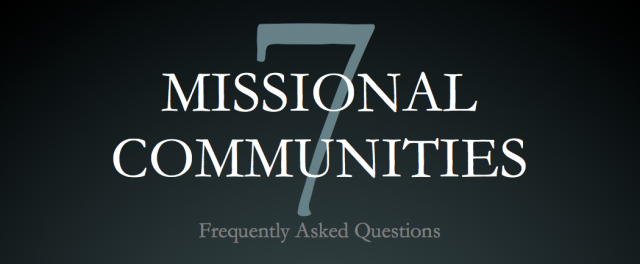 Over the coming weeks, we will be asking some of the leading thinkers and practitioners to answer 7 of the most frequently asked questions about missional communities. All of the folks we'll be hearing from are featured speakers at Exponential 2011: On The Verge. For more information about Exponential 2011, visit www.exponentialconference.org. Also, make sure to use and follow the Twitter hashtag #7questions to keep up with the conversation!
Question #1: What is a missional community?
Other answers from: Hugh Halter | Mike Breen | Alan Hirsch | Felicity Dale | JR Woodward | Jeff Vanderstelt
You can download a PDF of this post here: PDF
Neil Cole is the founder and executive director of Church Multiplication Associates, which has helped start hundreds of churches in thirty-five states and thirty nations. He is seen by many to be one of the key founders of what is known as the organic- or simple-church movement. Twitter: @neil_cole.
Question #1: What is a missional community?
Neil Cole:
The church is not sent on a mission by God, rather God is on a mission and the church is called to join him. This is an important distinction, as much of what the church is about is trying to do stuff for God instead of letting Him do stuff through us. The mission is not the church's—it is the Missio Dei, or "mission of God" that we are called to be part of. From Gen to Rev God is seen clearly on a pursuit to redeem humankind from the bondage of sin and death. The pursuit of this mission must take us beyond the walls of our church buildings out into the places where people live and work.
Missional activist Alan Hirsch says, "A missional theology is not content with mission being a church-based work. Rather, it applies to the whole of life of every believer. Every disciple is to be an agent of the kingdom of God, and every disciple is to carry the mission of God into every sphere of life. We are all missionaries sent into a non-Christian culture."
A missional community is a spiritual family (community) with the Spirit of Christ in their midst, called out to join Him on His mission to the ends of the earth. When people encounter Jesus, alive and present as King, they get a taste of God's Kingdom on earth as it is in heaven. One cannot have the God of the Scriptures and not have His mission. Because a missional community is a spiritual family, by necessity it must be a smaller group.
A missional community is the spiritual family that has the Missio Dei in its DNA. This community may have formed for the mission with church members or, better yet, as a result of the gospel transforming the loves of people outside of the church. It is usually found in a place where life happens—a home, a place of business, a dormitory or a cell block. It is a community made up of followers in pursuit of Jesus and His mission.
A missional community does not exist for a task or simply for one another, but for Jesus—the Head. All community and all mission flows out from that connection with Jesus. A small group that meets together simply to fulfill a task will be short lived, one-sided and not holistic. A small group that meets simply to have community life is just as out of balance. Christ is the glue and the source of direction and energy for all life change and movement.
The DNA of a missional community is:
1. Divine Truth—the presence of the Spirit of Jesus and His Word
2. Nurturing Relationships—the many one anothers found in the NT
3. Apostolic Mission—being sent ones, individually and as a community.
All three elements must be at the core of every agent of God's kingdom. Remove a single leg from this three-legged stool and it all collapses. When the community comes together each one carrying the same DNA then the community as a whole has a healthy DNA in every part. It is vitally important that the missional community begin with the right DNA.
What do you think about Neil's definition of missional community? What other questions does this leave you with? Join the conversation in the comment section below…